Brand Commercial Ad | Urban City Mockup – 21924523 – Videohive – Free Download After Effects Project Files
| | |
| --- | --- |
| Last Update | 5 June 19 |
| Created | 14 May 18 |
| After Effects Version | CC 2019, CC 2018, CC 2017, CC 2016, CC 2015, CC 2014, CC, CS6 |
| Files Included | After Effects Project Files, Video Files |
| Length | 4:00, 3:30, 3:00, 2:00, 1:30, 1:00, 0:40, 0:30, 0:20, 0:10 |
| Resolution | 1920×1080 |
| File Size | 3.5GB |
| Media Placeholders | 30, 20, 10, 5 |
| Text Placeholders | 100, 70, 50, 40, 30, 20, 10 |
| Official Information | https://videohive.net/item/american-dream-commercial-mockup-city-builder/21924523 |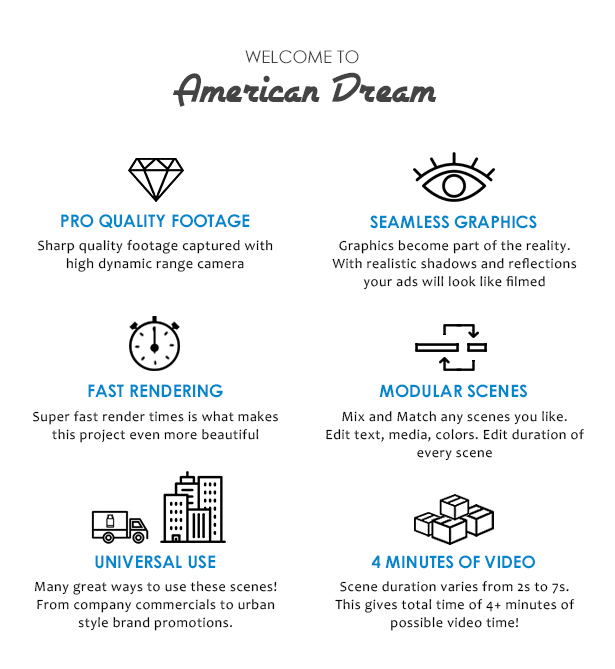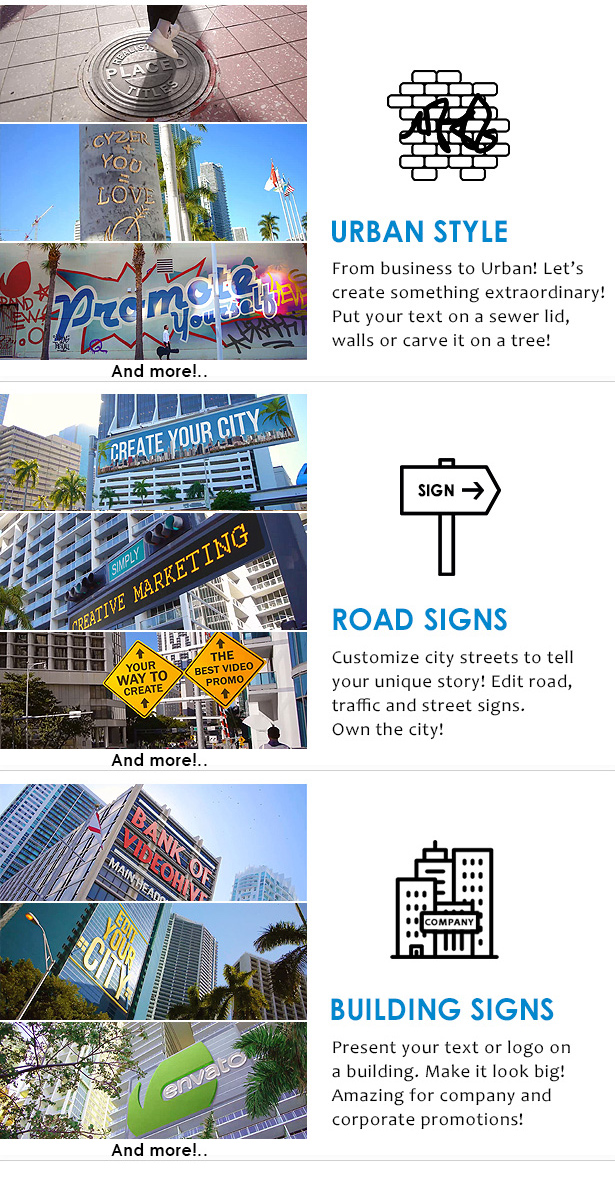 Tracked After Effects Ad
Tracked Real Footage Pack
for making corporate commercial ad, music video, corporate story presentation, crowdfunding, brand campaign or a startup company!
Main Themes:
Company opening, Product or Service, Urban hipster entertainment. Create Inspiration motivational energetic promotion in a real city! All video, text and logo media is added onto 3D tracked reality and adapted to the scene to look realistic and cool! Package for business, tv production, vlog, music clips and social documentary videos.
Customize City
Customize Business – shop storefront, vehicle wraps, billboards, digital displays, flags, banners, posters. Very fast text and image replacement. Looks perfect for American, Canada, Australian, China, Japan, Isreal, Korean, Brazil, Portugal, Spain Town.
Edit Graphics or Use Your Content
Edit texts and graphics or replace with your text, pics or logo! Add videos and pictures to form your company look.
Project Features
Any text, logo or picture becomes part of the video scene!
Full HD
Seamless shadows and reflections
Very fast rendering
Great realistic style
No Plugins
Help file PDF
All fonts are linked in a help file
Music Used (Not included)
Preview Music1
Preview Music2
Three available edits require Audiojungle music:
Company Style
Corporate Style
Street Style
Video Stock used to fill placeholders (Not included)
Reaching agreement
Company training
Dancing breakdance
Production team
End of negotiation
Blog making process